CEEC (Conseil Européen des Economistes de la Construction or The European Council of Construction Economists) is the European knowledge hub for construction economists. CEEC links professionals in Europe to share relevant best practice, information and experience and promotes the profession of the construction economist, common knowledge and international standards.
You can participate in our activities by contacting first your nearest member organisation.
LIVE MEET UP IN DUBLIN
For the first time in more than one and a half years the delegates of CEEC met each other live. From Thursday 14 till Saturday 16 October they came together in the bustling city of Dublin, Ireland. Apart from a very interesting seminar, organised by the Society of Chartered Surveyors Ireland (SCSI) and the General Assembly of CEEC, the delegates especially enjoyed the reunion and catching up wih each other.
At the 84th General Assembly of CEEC Agnete Skytte was re-elected President. Furthermore ongoing issues and (new) projects such as establishing a new cost classification system in Hungary and a European Survey were discussed. Also feedback was given on the working groups. Apart from 'Communication' which is an ongoing process an the 'Surveys on construction in various European countries' which are enrolled by RICS, the other two working groups consider their assignment completed. The results of the project on 'European Standards & Norms' is already published on the website of CEEC and the results of the project on 'The role of construction economists in European countries' will be published soon.
SCSI CONGRESS DUBLIN OCTOBER 2021
The Society of Chartered Surveyors Ireland (SCSI) organised a half day QS and Construction Conference on Friday 15 October in the Alex Hotel, Dublin in partnership with the CEEC and kindly supported by Alpha Wealth. Due to COVID-restrictions places to attend in person were limited, but profesionals could attend also virtually.
At the conference presentations on very diverse subjects were given, from 'ICMS3' and 'BIM' to 'Supply chain capacity as a risk to the industry' and '5 year governement plans'. In the afternoon the delegates of CEEC visited a project in Dublin where 155 new residential units combined housing and apartments were being build. Afterwards, the reactions were very positive and participants were pleased with the content and organization of the day.
ICMS3 LAUNCHED ON 29 NOVEMBER
On 29 November the International Cost Management Standard – or ICMS3 – was launched. This ICMS3 sets out a methodology for construction professionals and developers to account the amount of embodied carbon their projects will create, whether that's through the delivery of new roads, schools, offices, housing or railways. An estimated 40% of global carbon emissions are emitted every year through the construction of new buildings and infrastructure, and the industry has accepted it must adapt in order to meet the pressing need to avert climate catastrophe.
The launch of ICMS3 represents the starting pistol being fired for the construction sector to embrace net-zero as a global, interconnected industry, and follows the COP-26 climate conference in Glasgow (UK) where world leaders set bold targets to avert a global disaster. Alan Muse, Head of Construction Standards at the Royal Institution of Chartered Surveyors, said: "De-carbonisation of construction is now essential to meet the goals of COP 26. Critically, to achieve this, we need globally standardized reporting systems – unless we measure it, we cannot manage it. The use of ICMS 3 will benefit all construction stakeholders who wish to reduce carbon for a combination of compliance, market and societal reasons and also drive innovation in terms of alternative designs and solutions."
Justin Sullivan, Chair of the ICMS Coalition and Construction Industry Council, added: "The ICMS journey has been a beacon of how collaboration works. We have 49 international public benefit bodies that have together created world class standards in the construction and infrastructure sectors.When it comes to international standards for costs, life cycle and carbon in construction we are the only show in town, true pioneers. The timing of the launch of ICMS3, THE standard for carbon in construction could not be better with the world stage digesting and implementing the outcomes of COP26. Onwards and upwards.
ESCALATION CONSTRUCTION COSTS
The ongoing worldwide escalation in costs for construction timber and steel and other materials , higher energy costs and difficulties in labour supply were dominate themes at the CEEC congress in Dublin in October hosted by the SCSI. At the seminar on the morning of the congress discussion on the difficulties in supply chain and costs were presented by key directors in Irish construction firms, Marcus Carne of John Sisk & Sons and Donal Hennessy of Colleen Construction. They presented a number of facts and factors behind the current worrying trend and expressed the view that continuing issue with resourcing and ongoing shortages leading to unforeseen high increases price may be with us at least well into the new year. It is clear from comparisons of advice received from some of our members both in Europe and Canada that the increase in material costs is clearly related to supply chains reaction to the pandemic and rising energy costs.
As these factors are affecting differing countries at differing times it was agreed to defer confirmation of the CEEC 2021 Office Cost Model figures until after publication of the Q3 national statistics in November and delay publication of the results until the New Year. CEEC note that the following construction tender inflation year on year to June 2021 is advised:
Czech Republic: 5.8% building material & 8.8 % for civil works
Denmark: 3.7% increase in tender prices
Estonia: 5% increase in materials
Hungary: 10% increase in building costs
Ireland: 8.4 % increase
Netherlands: 8.2% increase annually on tender costs
Spain: 9.4 % increase on building costs to June 2021
Canada: via the CIQS advise a weighted average of 8.8% over the year
OPENING OFFICE PARIS
On Thursday 23 September 2021 the office of UNTEC on the Rue de la Fédération in Paris, which is also the official adress of CEEC, was officially inaugurated. After speeches by Franck Dessemon, President of UNTEC and Agnete Skytte, President of CEEC, those present enjoyed a small come together.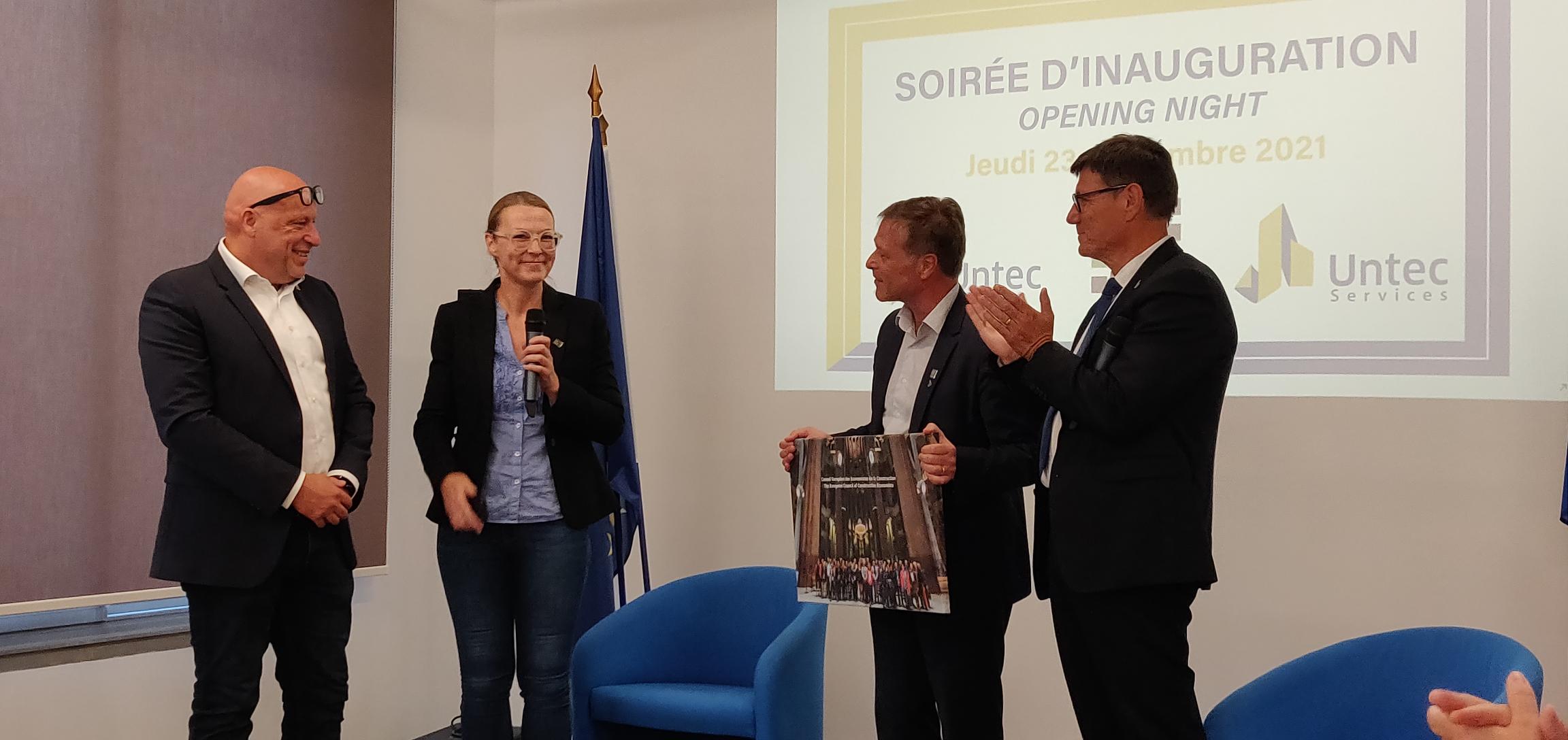 NEWSLETTER DECEMBER 2021
Two times a year CEEC releases a newsletter. Click here for the latest version, December 2021.
CEEC AWARS UNTEC TROPHY CATEGORY EUROPE
At the UNTEC Congress in Nimes on 21 and 22 November 2021 the Trophées Untec were awarded. More than 360 professionals in France voted for the candidates in six categories. In the new category 'Europe' the UNTEC Trophy was awarded by CEEC to Athmer.
CIQS AND CEEC STRENGTHEN THEIR TIES
For more than ten years CEEC and the Canadian Institute of Quantity Surveyors (CIQS) have been meeting eachother at various meetings around the world. During this years a strong bond developed and a delegation of the board of CIQS have been coming regularly to the meetings of CEEC. So at the PAQS-meeting in Malaysia in August 2019 it was further investigated how both parties could strengthen their bond. This resulted in a proposal for affiliate membership of CIQS that was ratified during the virtual General Assembly of CEEC in May 2020. CIQS is the premier professional association that sets the highest standard for construction and infrastructure economics in Canada. With the membership both parties pursue to continue collaborate/participation in like‐minded goals and activities of both associations.