TWO MEETINGS A YEAR
CEEC holds a general assembly bi-annually in various cities in Europe, where the many issues concerning the construction economist are debated and a number of projects promoted.
Two times a year General Assembly.

Visiting an interesting project in another country.

Updates on the projects where CEEC is involved in.

Get together with colleagues from other countries in an informal setting.
The CEEC meeting and General Assembly in Dublin in October are cancelled because of COVID-19. Instead a virtual Assembly will be held on  Friday 23 October and CEEC memebers and affiliates can virtual join the live SCCI conference in Dublin on Thursday 22 October.
SCSI CONFERENCE 22 OCTOBER AND VIRTUAL CEEC GENERAL ASSEMBLY 23 OCTOBER
On Thursday 22 October 2020 the Society of Chartered Surveyors Ireland (SCSI) organises a conference in Dublin, which CEEC delegates and affiliates can virtual join. The price to participate is €40 for SCSI and CEEC members and €70 for non-members.

Programme SCSI Conference (all times quoted are Irish Standard Time (IST), so the conference starts at 11:30AM CEST Central European Summer Time)
10.30 Welcome
10.35 ICMS/BIM – A Government perspective, incorporating ICMS into the Capital Works Management Framework and the work involved in
incorporating BIM into Capital works projects in Ireland.
11.10  Life Cycle Costing: an Irish approach
11.50 Virtual Networking; meet with colleagues over a virtual tea/coffee break
12.10 ICMS 3 and Carbon Counting: an example of both a new construction and refurbishment project, in which TCO and Carbon have been
estimated (Tim de Jonge)
12.50 The balancing of risk with greater certainty of cost a new contract approach for Irish Construction
13.25 Conclusion
13.30 End
The General Assembly of CEEC will be held virtual on Friday 23 October 2020 from 15.00 till 18.00 CEST (Central European Summer Time). More information and the Zoom link will follow.
VIRTUAL GENERAL ASSEMBLY MAY 2020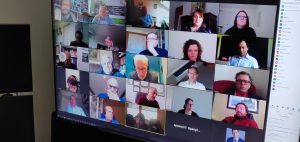 Because of COVID-19 the May meeting and General Assembly of CEEC which would have taken place in Bern, it needed to be cancelled. Instead an online General Assembly was held on Friday 15 May, which 26 delegates and their relatives attended from their home countries. Topics for this meeting were among others the election of a new Vice President and new members, budget and impact of COVID-19 on the functions of CEEC.
Discussed at the General Assembly was the progress of the working groups on the strategy for CEEC. On behalf of the group which is working on standards Erik Schulte Fischedick was happy to announce they had made good progress and the group hopes to present the results of their poject at the next meeting. The group which looks further into the role of a construction economist in different countries also makes good progress, György Spanyi reported to the General Assembly. They also hope to present their results in the near future. On the subject of the survey for CEEC, members of CEEC who have not yet responded are invited to provide feedback on the proposal sent out earlier this year. Please send your remarks to secretary@ceecorg.eu.