TWO MEETINGS A YEAR
CEEC holds a general assembly bi-annually in various cities in Europe, where the many issues concerning the construction economist are debated and a number of projects promoted.
Two times a year General Assembly.

Visiting an interesting project in another country.

Updates on the projects where CEEC is involved in.

Get together with colleagues from other countries in an informal setting.
On 1 and 2 September 2022 UNTEC, France organizes their 50 years anniversary congress in La Rochelle, France. CEEC will combine its General Assembly with this event,
REVIEW GENERAL ASSEMBLY BERN MAY 2022
At the 85th General Assembly on Saturday 14 May in Bern, Steven Thompson (UK) was re-elected as Vice President. Mary Flynn (Ireland) was elected as General Secretary because Creon Swaghoven stepped down as General Secretary after five years for personal reasons. Creon was thanked for his work, especially on the file server, documentation, standardization of documents and communication matters such as the website and the newsletter.
Also the accounts for the year 2021/ 2022 were approved and the Board was discharged at the General Assembly in Bern. Furthermore, the budget for 2022/ 2023 was approved and other issues such as the ICEC World Congress to be held in Rotterdam, PAQS Singapore, and the 50 years anniversary congress of UNTEC were discussed.
INTRODUCTION MARY FLYNN, NEW GENERAL SECRETARY CEEC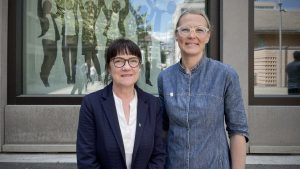 In Bern at the General Assembly, Mary Flynn was elected General Secretary of CEEC. Mary is a delegate for the Society of Chartered Surveyors Ireland and works for the Dublin City Council, Quantity Surveyors Division. She is the first female secretary of CEEC and for the first time since the formation, CEEC now has a female president and a female general secretary.
Mary Flynn (FSCSI FRICS MAPM MSc aBIMM 5DBIM QS) has worked in the AEC industry for over 30 years in Ireland & the UK. She joined Dublin City Council Quantity Surveying Division in 2016 having previously come from a private sector and commercial sector background. Mary is co-founder of the Public BIM Group comprising of the major public bodies collaborating on common interests such as BIM, Public Works Contracts, and Digital transformations. She sits on the SCSI QS BIM Working Group focusing on the development and use of 5D BIM amongst the Quantity Surveying profession.  She also sits on the ICMS Working Group and is actively involved as APC Assessor/Chair for the SCSI.
Mary is a non-executive director on the board of Construction IT Alliance and regularly contributes at conferences as a speaker both at home & abroad on BIM & the QS, Public BIM and BIM & Smart Cities. She is passionate about the use of Data for the Public Good through its collection, harvesting, mining and analytics. She guest lecturers with various Colleges, having previously lectured for a number of years part-time in TUDublin. Mary also sits on the Judging Panel for the Irish Construction Excellence Awards. She also acts as BIM advisor to the Construction Sector Group (CSG).
MEETING BERN MAY 2022
From Thursday evening 12 until Saturday 14 May the delegates of CEEC met up in Bern, Switzerland. Besides workshops, presentations, a site visit and the General Assembly, the delegates of CEEC had plenty of time to meet up with each other and enjoy the beauty and good life of Bern.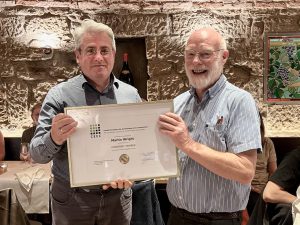 On Thursday evening the attendees enjoyed a n informal dinner where former delegate of Switzerland, Martin Wright was honoured as an honorary member of CEEC. Martin was delegate of CECC from 1986 until 2003 and was thanked for his involvement in CEEC and his efforts to put CEEC on the map in Switzerland and Europe.
On Friday, the progress of the CEEC working groups and the focus of CEEC for the next few years were discussed at a workshop. In Tallinn in Spring 2019, CEEC set up four working groups on different subjects (1. Communication, 2. European surveys on construction, 3. European Standards & Norms and 4. The role of construction economists in European countries). At the workshop in Bern, the working groups were evaluated and new projects were discussed. Among others: ICMS Mapping, Apartment Block Cost Model, Civil Work Cost Model and Further strenghtening of European relations were suggested as new projects. At the General Assembly on Saturday it was agreed that a proposal for the next meeting will be prepared by the Board on which projects to move forward with given the resources available.
After the workshop and lunch on Friday the attendees heard an interesting presentation by Ludovic Jean (delegate for UNTEC France) on 'Calculation of Life Cycle Costs with Gestiona'. As an introduction to a site visit of a conservation project in a building next door to the 'Zytglogge', one of Bern's most well-known attractions, Michael von Allmen (responsible for the conservation of the Old City of Bern) gave a presentation on 'How does the City of Bern secure a sustainable development of the UNESCO World Heritage site'.
On Saturday, the General Assembly of CEEC took place.
NEXT MEETING
This year member organization UNTEC celebrates its 50 years anniversary since formation. Therefore, the next meeting of CEEC will be held in France so this special occasion can be celebrated with UNTEC during their annual congresson on Thursday 1 and Friday 2 September 2022. The venue for the 50 years anniversary congress of UNTEC and the next CEEC meeting is at Espace Encan in the French port city of La Rochelle.
So please mark 1 & 2 September on your calender and keep an eye on the website of CEEC and of UNTEC for further details..